People were confused, especially since the ad didn't suggest any policy changes. It simply prompted viewers to visit Cain's site, where they were asked to donate to Cain Solutions (presumably a goldfish support group). Reveling in the public's response to their animal torture, for their next ad, the Cain camp upped their game with a rabbit.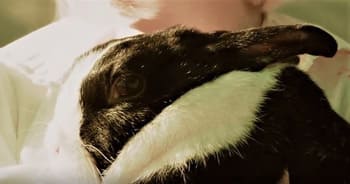 The stakes are higher because it's much more difficult to flush a dead rabbit down the toilet.
The ad begins with the same girl holding a rabbit while saying, "This is small business." She puts the rabbit down before continuing, "This is small business under the current tax code." Then this happens:
Truly, Herman Cain was in touch with regular Americans, who are forever comparing taxes to catapulted rabbits.