The James Bond film series has always varied in quality. We've seen the highs of Goldfinger and the lows of 007 battling evil while dressed as a melancholy clown. But back in the 2000s, things seemed to be looking up with Casino Royale. Daniel Craig's gritty origin story for a new Bond was a breath of fresh air after the Pierce Brosnan run devolved into stories about invisible cars and jokes about festively named women orgasming.
Although Craig is still playing Bond after 12 years, recent headlines are overwhelmingly dominated by how badly the public wants to see some other (super-duper handsome) guy take over the role. The only press surrounding the newest Craig Bond movie concerns the depressing news that acclaimed director Danny Boyle left the project, delaying the release until sometime between now and when the Sun explodes.
It's almost hard to remember how exciting this reboot was when it began. Casino Royale has a 94 percent on Rotten Tomatoes. But the most recent entry in the Craig canon, Spectre, received a mere 63 percent -- a full five points lower than the paragon of mediocrity that is Hitch.
Rotten Tomatoes
Rotten TomatoesAnd 30 percent lower than Mission: Impossible -- Rogue Nation, which is basically the same plot but, you know, done well.
This isn't to say that that cartoon fruit have any true bearing on a movie's quality, but the fact that the critical assessment of the series has fallen from near-universal praise to on par with the movie wherein Will Smith helps Kevin James get laid seems pretty bad.
Casino Royale wasn't just a good movie; it was an attempt to restore some of the more classic elements of Bond while pushing the series in a new direction. It retained Judi Dench's M (a '90s rebuke of Bond's sexism) and recreated Ursula Andress' gratuitous beach scene from Dr. No with the gaze flipped on Bond himself.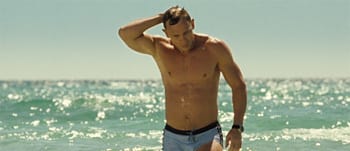 Eon ProductionsAlbeit accidentally.
So what the hell happened? Well, here's one problem with the recent James Bond movies: They never just gave us a damn James Bond movie.
Think about it. Casino Royale was supposed to be an origin story. Like Batman Begins, we were watching this character become the Bond we know. He learns about martinis and gambling, and acquires his license to kill. He also falls in love with Vesper Lynd, only to be betrayed and watch her die, spurring a lifestyle of treating women like absolute garbage for no reason.
And after the entire movie held back on the classic Bond theme, in an almost tantric musical relief, the familiar melody kicks in during the film's final moments, informing audiences that Craig has finally become the Bond we know.
Eon Productions"OH! THAT'S WHO HE IS!"