But Lynch's true love has always been painting, with him only becoming a filmmaker out of a desire to see his images move. After attending art school, Lynch never stopped pursuing his true passion -- it's just that people were more into his movies and their themes of ... um ... yeah. In recent years, though, Lynch has redoubled his focus on his painting and photography, which are infused with the same surrealist glee that made the man hang out with a cow in the hopes it would win Laura Dern an Oscar.
David Lynch, This Man Was Shot 0.9502 Seconds Ago
However, Lynch seems to have recently pivoted to expressing himself on the only canvas people are still interested in: pop culture T-shirts. From his new Amazon store page, Studio: David Lynch, he's now selling a wide range of shirts which effortlessly evoke the "I got sold this by a toothless man on the Venice Beach Boardwalk" aesthetic present in all of Lynch's art.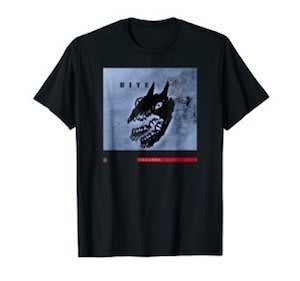 David Lynch, BITEThis one comes with a free sample of meth.