Despite the plot being a bit tricky to follow at times, what with six movies' worth of characters talking and moving all over each other, the visuals are sometimes so amazing that they'll make you want to start a prog rock band just to use them as album art.
LucasfilmThey should have sent six poets.
Other times, the compositions are surprisingly meaningful, such as Padme seeing a hologram of her own future daughter Leia pleading for help, separated by the dark specter of Darth Vader.
Lucasfilm"Help me, foreshadowing, you're my only hope."
It almost makes you wonder if the once-experimental filmmaker George Lucas always intended for his movies to be smooshed together into one avant-garde epic in which all the boring trade negotiations are cleverly drowned out by screaming Wookies. Then again, most of it is just brain-meltingly chaotic.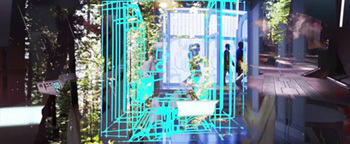 Lucasfilm
LucasfilmStill more coherent than a David Lynch film.