It wasn't exactly a coup for women. The characters were portrayed as ditzes who were largely useless at fighting crime and mostly interested in getting into Batman and Robin's respective spandex. Plus, the fact that the menfolk didn't seem too thrilled about their presence probably didn't do much to deflect talk of Batpederasty. They were mercifully written out in 1964, and their long slumber is only disturbed whenever a Batman writer feels like doing a "Boy, comics sure used to be wacky!" issue.
But accusations that Batman and Robin were friends of Dorothy, and therefore probably communists or whatever, continued to dog the franchise. So '64 also saw Alfred being killed off so he could be replaced by Aunt Harriet, a hitherto-unmentioned relative who shows up to both literally and figuratively straighten out the Wayne household.
DC Comics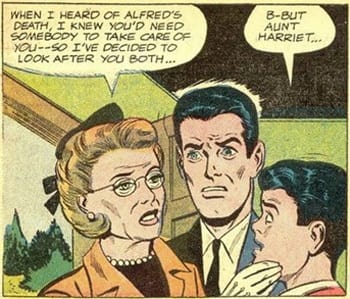 DC Comics"Wait, how come you didn't look after me when my parents died?"
"Well, you weren't rich then."