Alcatraz wasn't known for its medical staff, but doctors on The Rock eventually realized there was some funny business going on with Capone. Doctors noted that he'd sit quietly with a "strange grin" on his face, and that he'd sometimes put on his coat, hat, and gloves while sitting in his heated cell. Left untreated for years, Capone's syphilis rendered him insane, and by the time he was paroled for (ironically) "good behavior," doctors estimated that he had the remaining mental capacity of a 12-year-old.
And while syphilis was Capone's get-out-of-jail-free card, it was the treatment for gonorrhea which led to John Dillinger's attempts to get out of jail. When he was sentenced to prison in 1924 (before he became really famous), doctors discovered that Dillinger had the clap, the treatment for which was invariably worse than the symptoms.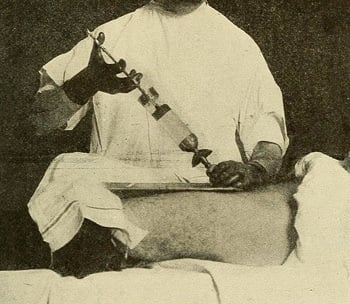 New York: International Journal of Surgery
There is no possible way this can be good for anything.
Because doctors are obliged to treat good guys and gangsters alike, Dillinger received 1924's top-notch clap cures, which are enough to make a frat boy celibate. Basically, they injected silver nitrate into the patient's urethra, either by straight-up squirting it into the penis or running a long, thin metal rod run up there. Fun! By the end of his first 90 days in prison, Dillinger tried to escape so many times that officials had extended his overall sentence by a year. And while we're not saying this irrevocably turned him to the life of crime that made him famous, ask yourself how many banks you thought society owed you after you had something forcibly put in your urethra. More than zero, right?