Apparently, the production team had a hell of a time deciding if Picard should sound English or French, so Stewart performed some scenes (including the opening narration) with a French accent, just to take it for a test drive. Which means we came terrifyingly close to exploring "Space, ze final fronteeah."
In addition to working out what Picard would sound like, Stewart's hair -- or lack thereof -- was another sticking point. Gene Roddenberry was adamant that a bald English dude couldn't possibly be "the new Captain Kirk," and was initially opposed to Stewart trying out for the part of Picard at all. Even though Roddenberry warmed to Stewart, he wasn't budging on the hair issue, and even had a wig flown from London to Los Angeles for Stewart to wear during a tryout.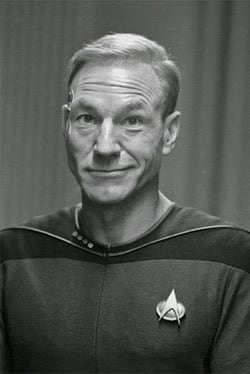 CBS Television Distribution Make the Federation Great Again.
As you may have noticed, Picard did end up bald, which means Roddenberry eventually caved and realized that members of the Federation would probably be more concerned with Romulans than Rogaine. Roddenberry even stated that Picard was bald because "hair doesn't mean anything in the 25th century." Which sounds hilariously naive to modern ears, now that we know how important beards are to first officers.