Like Bono, Depp actually has to wear his dumb sunglasses for medical reasons. Some poor team of opticians has been crafting dozens of blue sunglasses to correct his combination of near- and farsightedness. But only for his right eye. His left one has been pretty much a lost cause since birth. It's not completely blind, but it makes everything look basically like a Monet painting after someone put it in a dishwasher. So unless he's playing a role that requires sunglasses, like in Fear And Loathing In Las Vegas, he's acting while being aware only of what's going on a few inches directly in front of his face.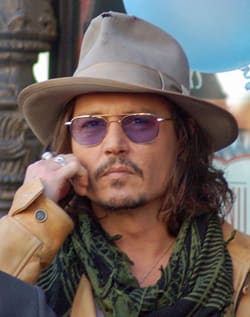 Angela George/Wiki CommonsSo that explains why he has the fashion sense of what the Doctor would look like played by Stevie Wonder.
But that doesn't explain wanting to see the world like an underwater wonderland? (Actually, we answered our own question there). There's no solid confirmation, but there is a perceptual processing disorder called "Meares-Irlen syndrome," for which ophthalmologists prescribe such hipster-friendly shades, which can reduce stress to the eye from overstimulation. And if busy patterns and shocking color palettes are the cause of his woes, it makes us wonder why he keeps dressing like was dragged through a Goodwill at high speed. Then again, the poor guy probably hasn't been able to look at himself in the mirror for decades.