That's the risk you take when hiring a man with more thrusting masculinity in his lithe elvish body than the whole defensive line. But a phallic faux pas can even happen with the nerdiest of all sporting entertainers: the marching band. To be sure, nothing is more erotic than a bunch of people dressed up like nutcrackers hammering out the Batman theme, but marching bands are generally tightly regimented paragons of discipline. Yet even they can break formation and fall face-first into a pile of accidental wangs. Like these rhythmic dweebs who wanted to celebrate their Kansas State team by recreating their beloved Jayhawk mascot next to the iconic Starship Enterprise ...
Kansas State Marching Band
... but ended up forming a fiercely erect cock angling towards a bird's open beak: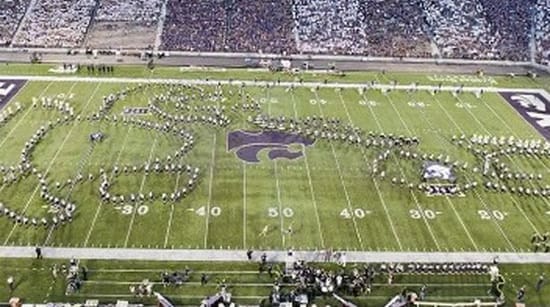 Deadspin
Boldly going where no man should go.