Filled with only the finest of Surge.
That's the Solo Jazz pattern and, for decades, no one really knew (or much cared) who was responsible for it. But finally, in a feat of investigative journalism that is as impressive as it is entirely pointless, Thomas Gounley, a reporter for Missouri's Springfield News-Leader, painstakingly tracked down the creator of the design: one-time artist for Sweetheart Cup Company, and now-time frame shop manager down at the Hobby Lobby, Gina Ekiss.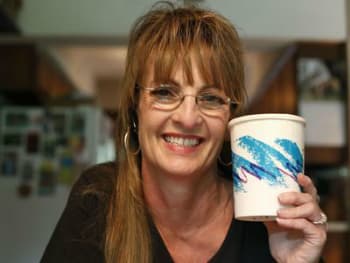 Nathan Papes/News-Leader
It must be nice to know your legacy is already set in
stone
paper.
Back in 1989, the Sweetheart Cup Company needed a new stock design for their paper products -- one that wouldn't get disastrously thunderfucked every time the printer misregistered in the slightest. So they opened up a design contest to their 32 internal artists. A scribble met the single design requirement quite nicely, so that's precisely what Gina entered: a scribble of her two favorite colors. The submission won out, and Gina landed herself a hefty $0 bonus (but with an additional $0 in royalties!) for creating the company's single best-selling design. The rest is '90s history. Or wait ... uh ... "fresh, gnarly yester-times?" We forget how the past talked. Insert something suitably embarrassing here, if you remember.