Ultimately, after countless interrogations and failed attempts to prove their version of events with simulations of the scenario flown by other pilots, the NTSB is forced to admit that Sully is the best damn pilot since the Rocketeer, and that he made the right call in deciding to land his plane on a river. The little guy triumphs over the evil bureaucracy!
The Reality:
How confrontational were the real inquiries into the Miracle on the Hudson? Well, to answer that question, here's a bunch of those heartless aviation industry suits giving Sully and his co-pilot a standing ovation: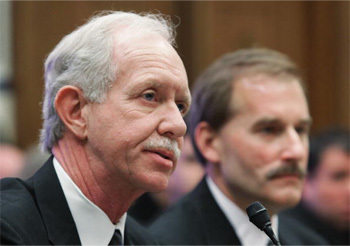 Mark Wilson/Getty Images
But the movie got the mustaches right, and that's what's important.
The NTSB was always on Sully's side. His decision was never really challenged, and was generally taken at face value. And while in the movie the NTSB's questioning causes Sully to doubt himself, Sullenberger notes in his memoir that he was "buoyed by the fact that investigators determined that Jeff and I made appropriate choices at every step." In other words, the board put his mind at ease over the incident.
It's true that Sully and his co-pilot were questioned at great length for about 18 months, but those questionings are standard procedure after any plane crash, and the NTSB was trying to use this particular incident to come up with new safety regulations to ensure that this kind of thing wouldn't happen again. (We assume they have begun outfitting all commercial aircraft with manned geese-destroying turrets.) The NTSB was unanimous in agreeing that Sully made the right choice that day, although there was probably some dissent when they voted on whether Sully made the right call when selling his story to Clint Eastwood.