Also, he can apparently walk on water.
So why is Sully an "underdog?" Well, as we see in the film, the bureaucrats at the National Transportation Safety Board decide to badger him with accusatory questions, casting doubt on whether he endangered the lives of his passengers by making a hasty decision. They assert that he could've simply landed the plane at a nearby airstrip or whatever. Despite Sully's assurance that he would have crashed if he'd attempted any other kind of landing, the arrogant bullies at the NSTB refuse to believe him, and mostly work to cover their own asses.
Warner Bros.
"What are these 'geese' you speak of? Is this another one of your imaginings?"
Ultimately, after countless interrogations and failed attempts to prove their version of events with simulations of the scenario flown by other pilots, the NTSB is forced to admit that Sully is the best damn pilot since the Rocketeer, and that he made the right call in deciding to land his plane on a river. The little guy triumphs over the evil bureaucracy!
The Reality:
How confrontational were the real inquiries into the Miracle on the Hudson? Well, to answer that question, here's a bunch of those heartless aviation industry suits giving Sully and his co-pilot a standing ovation: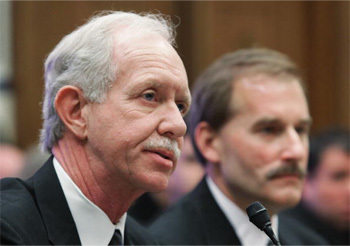 Mark Wilson/Getty Images