The way the tripping mechanic works is as simple as it is misguided: Every time you move in the game, there is a chance you eat shit instead. See here, as a player using Link gets his own bomb knocked back at him by Princess Peach. Link wisely tries to get away from the bomb, but something in Nintendo's evil logic replaced 'defend' with 'banana peel.' Against the player's will, Link drops down to better expose his anus and perineum to the grenade.
Nintendo
"Oh, did you fall and lose an asshole?" -- this video game
These are characters we've watched bound across floating lava islands and ice conveyor belts for decades, and suddenly they move like drunken roller skate thieves? Even Sonic the Hedgehog can trip, and he probably got to this fistfight by running 70 mph through a corkscrew littered with hula hoops. If there was even a tiny chance that Sonic could trip, he would have been called Unexplainable Red Smear of Teeth and Needles in a Crater 20 years ago.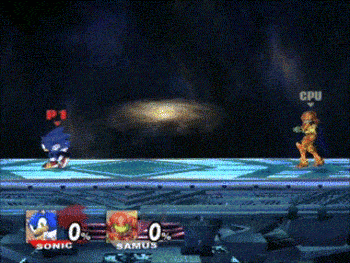 Nintendo
Jesus, you're drunk, Sonic.