The museum recognized the samples as being from the time period of Emperor Qin, otherwise known as the emperor who united the entire country, standardized the language, and from whom China gets its name, and paid him the equivalent of three years' salary for the three carts he'd brought. Unfortunately, Yang immediately had to hand the cash over to his employers, who reduced his cut of the booty to a half-day's pay (because, y'know, communism). After that, a museum was built on top of the discovery, displacing Yang and his fellow villagers, who at this point were presumably wishing he had gone with the "Let's throw these statues in the river" option.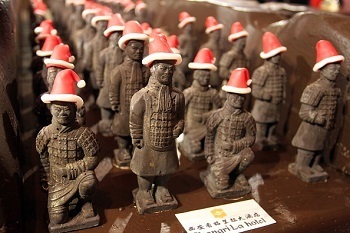 VCG / Getty Images
And after seeing them sell little chocolaterracotta men in Santa hats, we wish he had too.
In a twist of fate, the museum became a huge hit. It began drawing millions of visitors a year, which ended up actually benefiting all those locals. Yang himself started signing autographs for museum-goers, which earned him up to 1,000 yuan a month (way more than he'd been earning digging holes in the ground and accidentally reclaiming lost history). He even met world leaders, including Bill Clinton.
Oved / Wiki Commons
Once you get past the dozens of morons pretending to be you for the sake of a couple bucks, it's a sweet-ass gig.
Then he abruptly decided to quit that job and sort of doesn't have any income now. Maybe he found another tomb somewhere and just doesn't want to tell anyone about it.