That is, until Yang Zhifa came along. In China in 1974, Yang was digging a well for a nearby farm when he unearthed a casually headless life-size statue of a man. He figured he'd stumbled upon the site of an old potter's workshop and thought, "Hey, maybe I'll find some cool-ass pots I can sell."
At first, the scattered bronze items and broken statues he was digging up seemed as exciting and valuable as finding a bunch of old LEGO bricks in your backyard. But Yang kept digging, loaded up several carts full of junk, and skipped down to the nearest museum to see if he could sell them. He figured if they didn't want his haul, he could always chuck the statues into the river.
The museum recognized the samples as being from the time period of Emperor Qin, otherwise known as the emperor who united the entire country, standardized the language, and from whom China gets its name, and paid him the equivalent of three years' salary for the three carts he'd brought. Unfortunately, Yang immediately had to hand the cash over to his employers, who reduced his cut of the booty to a half-day's pay (because, y'know, communism). After that, a museum was built on top of the discovery, displacing Yang and his fellow villagers, who at this point were presumably wishing he had gone with the "Let's throw these statues in the river" option.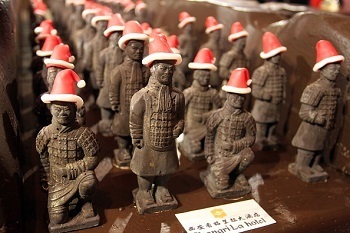 VCG / Getty Images
And after seeing them sell little chocolaterracotta men in Santa hats, we wish he had too.