Since 200-million-odd stones is a whole goddamned lot of stones -- and also to account for population disparity and all that jazz -- we've settled for the next best thing: the Electoral College, a system by which each state has a "college" of "electors" who are the ones whose votes really count. But those guys simply vote for whoever got the most popular votes in their state, so it all works out pretty much the same. What matters is that the people decide. That's what this is all about, after all.
But Actually ...
The words "popular vote" don't appear anywhere in the Constitution, because the Founding Fathers didn't give a single flip of their fabulous powdered wigs about your opinion. For that matter, the words "Electoral College" don't appear in the document either.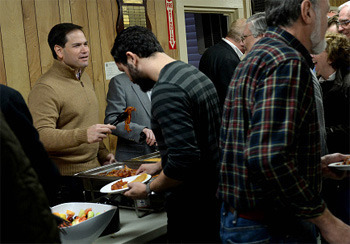 Darren McCollester/Getty Images News/Getty Images
The words "pancake breakfast" also don't appear there, somehow.
Article II states:
Each State shall appoint, in such Manner as the Legislature thereof may direct, a Number of Electors, equal to the whole Number of Senators and Representatives to which the State may be entitled in the Congress: but no Senator or Representative, or Person holding an Office of Trust or Profit under the United States, shall be appointed an Elector.
Although this is pretty much the Electoral College that we love/hate today, the Constitution never calls it that, nor does it specify that said electors should be chosen via the popular vote. That's right: As far as the Constitution is concerned, how states choose their presidential electors is their own damned business, which is why only five states used some sort of popular vote in 1792. The remaining nine let their state legislatures take care of all this election bullshit with virtually zero public input and thus zero popular votes.
RapidEye/iStock/Getty Images
Your state can -- and should -- pick electors from the Fuck This party.