Because sex offenders can't live near schools, parks, bus stops, or other places that have a lot of kids around, they often have trouble finding places to live. While most of us respond to the average sex offender's housing dilemma with a sarcastic, "BOO HOO," and pluck on the world's tiniest violin, Pastor Dick Witherow and ex-coach Pat Powers wanted to create a legal housing district for those who have offended others sexually. And if you're curious -- yes, one of them was once a child molester. (Hint: It's not the one named Dick.)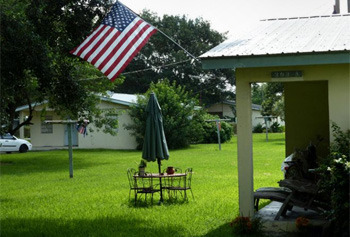 bbc.com
The one used car dealer sells only white cargo vans.
Dick and Pat teamed up to create a safe haven for people who couldn't legally live anywhere else. Unfortunately, they had to evict families with children so that the sex offenders could live in their houses. At Christmas. So that sucked. Among the new residents were men convicted of looking at child pornography, young guys who had underage girlfriends, guys who exposed themselves in public, a guy who got caught urinating in public, and actual child molesters. Oh, and one woman sex offender. Just one.
So imagine getting lost in the Florida sugarcanes and wandering into a town where there are few-to-zero children and just about everyone in sight has committed a sex crime. The creepy thing is you'd have no idea why there weren't any women or children in town, because there isn't a sign welcoming you to Sex Offenderville. No one is going to offer you directions to the nearest gas station after introducing themselves as a convicted child molester -- that's a very difficult talking point to work into small talk.
nancy dressel/iStock/Getty Images