At that point, any semblance of a formation comes apart as the troops just run-scream their way into a massive melee, Braveheart-style. The battle immediately turns into a total free-for-all, allowing the main characters to show us the superiority of their cool combo attacks against random extras. At some point, the protagonist inevitably spots the main villain or their lieutenant, at which point he usually just strolls toward them through the middle of the field, killing a couple of enemies on the way.
But Actually ...
Sure, some brave people used to fight like that. Or, rather, tried to. You know what history calls them now? Losers, or "I'm sorry, who?"
The reason the armies of ancient Macedonians and Romans tended to win against less organized folk (say, the Celts) is not because each and every one of their soldiers was more ferocious in single combat. It's because their professional troops stayed in those boring, organized formations and specifically avoided just charging into battle. Their well-armored and disciplined troops formed up into ranks and pushed their way down the field, one step at a time. That first minute of battle in the 300 clip was surprisingly accurate ...
Warner Bros
Right down to Spartans having CGI six-packs.
... before everyone suddenly turned on Matrix Mode and gained the power to slow down time: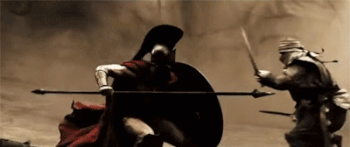 Warner Bros
It's well known that bullet time was invented by Teddy Roosevelt.