Basically this.
The whole "dinosaurs back from extinction!" thing was just a P.T. Barnum-esque stunt to fool gullible tourists.
Why It's Not That Crazy:
The originator of this theory appears to be Redditor Brownra04, as far as we can track it down, and it goes like this: The entire premise of Jurassic Park centers around the idea that geneticists were able to extract dinosaur DNA from prehistoric mosquitoes trapped in fossilized chunks of tree sap, which is impossible, because DNA has a half-life and would have decayed beyond any possible use after 65 million years. Plus, there's no way you would find a mosquito who limited its blood intake to one particular species of dinosaur. There would be hundreds, if not thousands, of different DNA strands in each mosquito. Every DNA extraction would be like taking a cotton swab of a college freshman's bedsheets.
Universal Studios
State's Mr. DNA is way stickier.
So, the only way for Jurassic Park to get its hands on any dinosaurs would be to have their geneticists build them from scratch, which would explain why all the dinosaurs in the movie look like how we, the ignorant public, imagine dinosaurs look, as opposed to how they actually appeared in nature. For instance, in real life, a velociraptor was the size of a chimpanzee, whereas in Jurassic Park, velociraptors are large enough to play professional basketball. Also, they had feathers. Most dinosaurs probably had feathers.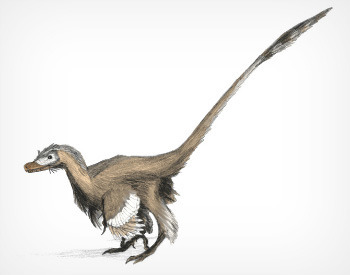 Wikimedia/Matt Martyniuk
They look like a duck fucked a monkey.
And the dilophosaurus, the tiny, spitting monster with a technicolor neck frill, was 10 feet tall, and the fossil record provides zero evidence of poison loogies or flashy throat accessories.
Universal Studios, Wikimedia/Arthur Weasley