Oh, wow, are those people, organizing for some sort of mass protest?
Andy Rouse/Rex Features
Nope: penguins. We tend to think only humans and maybe some insects organize in colonies so massive. But you're looking at a penguin metropolis. Or, if you prefer, the million-penguin march, in fact. This shot was taken by Andy Rouse in a passing helicopter, and it captures the king penguin colony of South Georgia. There, adults instinctively gather their brown-stain babies and huddle them together to keep them warm. Once the chicks are secure, the grown-ups go hunting for fish, more fish, and (if the kids are really good) fish for dessert.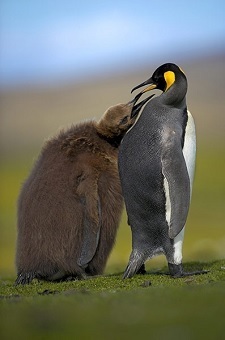 Andy Rouse/Rex Features
Made with a mother's love ... and stomach bile.