If you're a cynical type, you might think this is simply a promotion to sell more merchandise to women. But no, it's all for a good cause! It's part of the NFL's Crucial Catch program, intended to help cure breast cancer. The League pushes it so hard that for an entire month, this macho game turns a horrible shade of pink -- that's how much it cares about women, you guys!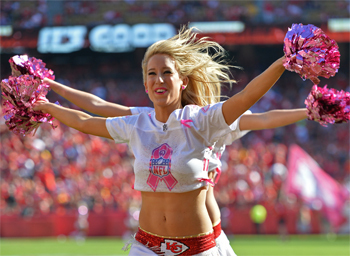 Peter G. Aiken/Getty Images Sport/Getty Images
Unless, you know, it involves giving them health insurance for mammograms and shit.
They boast that "a portion" of the proceeds from all of this gear benefits breast cancer research. So what's that portion, you ask? 75 percent? 50 percent? 30 percent?
Sorry, you all overbid. Try 10 percent or less.
That's right; the NFL collects untold millions each year from sales of pink this and pink that, and keeps 90 goddamn percent of it. Of course, they dress it up in such a way that it looks like they make almost nothing, but that takes some creative accounting. To hear them explain it, they donate 90 percent of all merchandise royalties to the American Cancer Society. Sounds great, except for that magical word "royalties" (instead of, say, "sales" or "profits").
According to Darren Rovell of ESPN, the NFL's modus operandi is to take a "25 percent royalty from the wholesale price (1/2 retail)". So if you buy a pink Tony Romo dishrag for $95, the NFL will take a quarter of half that price, or roughly $11.85, and donate a whopping $10.60 of it to the ACS. The rest goes to them.
twitter.com/darrenrovell
Avada Kedoughvra.