The sound quality of the group yell isn't great (it was recorded in the 1930s, after all), but when the veterans split up to do their individual renditions, it becomes clear that a big part of the Confederate war strategy was to convince the Union army that they were battling werewolves.
Smithsonian Magazine via YouTube
See "no bones in lower face," above.
And that's the Rebel Yell as performed by a bunch of crypt blankets who spent most of the air in their lungs walking up to the microphone. Imagine that sound as performed by 28,000 angry Southerners between the ages of 13 and 23, and there can be no doubt -- Item 1 on Robert E. Lee's battle plan was "werewolves," underlined.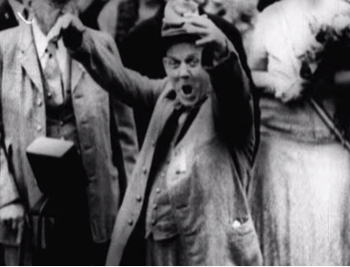 Smithsonian Magazine via YouTube
Fucking werewolves.