It doesn't just spend its days hee-hawing good-naturedly through the Caribbean, though: Parrotfish are directly responsible for some of the most beautiful white sand tropical beaches in the world. Or rather, their poop is. That's basically all white sand is -- parrotfish shit.
The parrotfish's pitiable horse teeth actually serve a purpose -- namely, grinding up chunks of coral. Once it finds a particularly tasty-looking reef, the parrotfish will bite off a piece and chew it up with those oversized self-help-guru veneers, extracting the algae that makes up a large part of its diet. The useless coral waste is then passed through its digestive tract and back out onto the reef in the form of pristine anal sand.
javi_indy/iStock/Getty Images
That's why sand rushes for your butt crack -- it's trying to get home.
The typical parrotfish can produce over 200 pounds of sand in a year. Much of it ends up washed ashore, forming large parts of the gorgeous tropical beaches you see in commercials and travel brochures. And they're not exactly a new or endangered species, which means the parrotfish population has been dooking out grains of resort icing for an incredibly long time.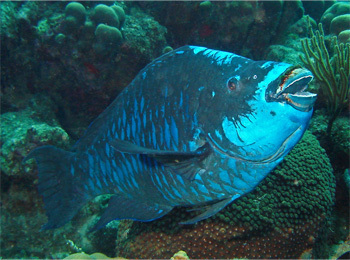 Alessandro Dona/Wiki Commons
"Ho HO! Joke's on YOU, motherfuckers!"