The typical parrotfish can produce over 200 pounds of sand in a year. Much of it ends up washed ashore, forming large parts of the gorgeous tropical beaches you see in commercials and travel brochures. And they're not exactly a new or endangered species, which means the parrotfish population has been dooking out grains of resort icing for an incredibly long time.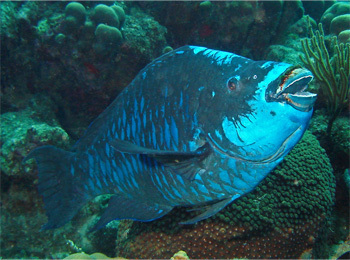 Alessandro Dona/Wiki Commons
"Ho HO! Joke's on YOU, motherfuckers!"
So if you've ever dug your toes into the beaches of Antigua or watched your children build sand castles at a timeshare in the Caribbean, just know you've all been relaxing and building memories in mountains of leering-fish shit.