That Rorschach Test of a district was formed by grabbing a group of housing units in the north, snaking its way through some abandoned freight yards and along the highway, and finally snagging another populated area in the south. The result of this gerrymandering is that the district is one of the most reliably Democratic in the nation.
In Texas, Republicans have rigged the district system to their favor so efficiently that the state government openly and freely brags about the fact that Democrats are screwed if they ever want to get elected there. The same goes for Florida, where the party vote is virtually split down the middle, yet Republicans hold the vast majority of congressional seats. Here, just gaze into the mouth of madness that now passes for the U.S. congressional district map: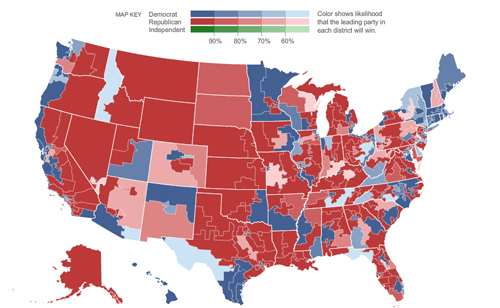 NY Times
Count how many districts aren't deep red or deep blue. We'll wait; it won't take long.
Now let's take it a step further: If you're a congressman and you and your colleagues are supporting a piece of legislation that is deeply unpopular even in your home state, well, who gives a shit? You don't have to watch the polls, because you know you're going to get re-elected anyway -- you're from a district that has been drawn to only include people who always vote for your party, no matter what. So why worry about what the rest of the population thinks? And more importantly, why ever compromise or cooperate in order to actually get things passed?