First, there's British philosopher Nick Bostrom, who came up with a statistical argument that we're living in an extremely sophisticated version of The Sims. The idea is that we have the ability and the inclination to build our own simulated realities, as evidenced by the growing video game industry. Thus it's inevitable that we'll build our own Matrix one day, when our level of technology allows it. That simulation will continue to grow in realism and complexity until one day it will have its own civilization, who will want to build a simulation of their own, and onward to infinity.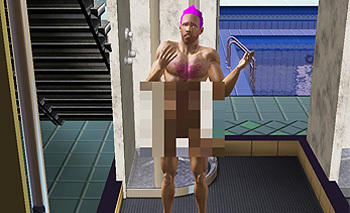 Electronic Arts
How much pixelation do you have over your junk? If your answer is any at all, you're probably living in The Sims.
If that's true, then there might be a virtually infinite number of simulations out there, so the chances that we're one of them are actually much higher than the chances that we're not.
Then there's physicist Silas Beane from the University of Bonn in Germany. His theory is that, if we are actually living in a computer simulation, then our universe should have a "resolution" -- in other words, there should be a limit to how small something can be, just like nothing can be smaller than the pixels on your computer screen.
Okea/Photos.com
Now, is the universe in VGA or super VGA?