Where It Actually Came From:
The British East India Company.
Ross never actually made a flag, but her descendants certainly spun a tale of bullshit when they suddenly remembered Ross' meeting with Washington 100 years after it supposedly happened. The true origins of the flag are much more complex, but historians have a pretty good idea of what the first flag looked like. It's known as the Grand Union Flag. And what the hell is a British flag doing in place of the stars?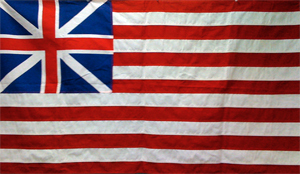 Via Sonoflibertywalk
"One Britain, with preposterous accents, indivisible, with tea and crumpets for all."
At the outbreak of war in 1775, most Americans were much more pissed at the British Parliament than they were at the king -- the rebellion was used as a means to get proper representation in the British Empire, not leave it altogether. George Washington and John Adams would even toast to the king's health during the first year of the conflict.
And their flag was also the one used by the British East India Company. The EIC controlled the trade in Britain's Asian colonies and was well-known to the founders -- after all, it was their tea that got ransacked by those pesky "Indians" in Boston. Before the outbreak of the war, American revolutionaries even considered the EIC an ally, as A) their trade was also being hurt by the British Parliament's taxes and B) the EIC represented an independent entity in the empire, something the colonists then aspired to be.
Stockbyte/Retrofile/Getty Images
Which they expressed by playing the drum solo from "In-A-Gadda-Da-Vida" while dressed like a futuristic 1940s housewife.