At least it's nice to know that the "for richer or for poorer" vow can only move in one direction.
Using 80 bales of hay, Clifford spelled out "WILL YOU MARRY ME RUTH?" creating a minor amount of confusion by leaving out the comma. The plan was to fly his sweetheart over this monument of love at night while a friend illuminated the hay bales with his car's headlights, because nothing drops panties faster than some nighttime hay-spotting. However, the friend with the car never showed up.
In a desperate move to save the special moment, Clifford's brother, Iric, set the bales on fucking fire. The fire quickly spread out of control, consuming the field around it. You know, as fire does.
9News
Leaving onlookers to assume that Satan finally met a nice girl to settle down with.
Luckily, no part of bathing an entire field in an ocean of flames struck Ruth as being totally insane, and she agreed to marry Clifford. Meanwhile, Iric, the Cyrano de Bergerac of this story, got arrested, because of course he did.
This sort of thing is, as it turns out, surprisingly common.
In Shenyang, China, a student named Dim Xiong Chien wanted to propose to his girlfriend, and he wasn't going to settle for a mere hay conflagration. His plan was to take his prospective fiance on a romantic walk through their college campus, culminating in a brilliant impromptu fireworks show lighting up the night sky as he popped the question. However, in what is perhaps the least subtle omen in recorded history, his girlfriend completely forgot to meet him. Not one to be discouraged, Dim went off to find her, but decided to set off the fireworks first to get her attention. Luckily, there's no possible way she could have failed to spot his signal of love, because the three enormous boxes of fireworks Dim ignited and subsequently left unattended set fire to half of the goddamned campus.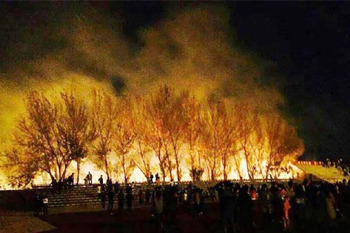 EuroPics [CEN]