Leaving onlookers to assume that Satan finally met a nice girl to settle down with.
Luckily, no part of bathing an entire field in an ocean of flames struck Ruth as being totally insane, and she agreed to marry Clifford. Meanwhile, Iric, the Cyrano de Bergerac of this story, got arrested, because of course he did.
This sort of thing is, as it turns out, surprisingly common.
In Shenyang, China, a student named Dim Xiong Chien wanted to propose to his girlfriend, and he wasn't going to settle for a mere hay conflagration. His plan was to take his prospective fiance on a romantic walk through their college campus, culminating in a brilliant impromptu fireworks show lighting up the night sky as he popped the question. However, in what is perhaps the least subtle omen in recorded history, his girlfriend completely forgot to meet him. Not one to be discouraged, Dim went off to find her, but decided to set off the fireworks first to get her attention. Luckily, there's no possible way she could have failed to spot his signal of love, because the three enormous boxes of fireworks Dim ignited and subsequently left unattended set fire to half of the goddamned campus.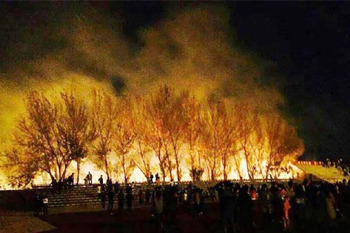 EuroPics [CEN]
Never has a man been more appropriately named.
The flames of Dim's passion burned down the school's athletic building, as well as causing massive damage to the surrounding grass and trees. The unstoppable inferno took firefighters over an hour to thwart. Dim wisely chose to save the proposal for a later date, but his plan was outed in the surrounding media chaos, presumably because he needed some kind of explanation for randomly setting off pounds of fireworks in the middle of the night. His girlfriend later admitted to reporters that, although she loves Dim, a marriage might prove difficult, because her parents think he is a goddamned idiot. This particular event is unlikely to change their opinion.
But at least in those cases, the damage was unintentional ...