When a rescue team finally lifted her lifeless body out of the stream, Bagenholm's temperature had plummeted to a hopeless 56.7 degrees Fahrenheit, and she had no pulse. The emergency team gave her CPR, to no avail. For all intents and purposes, she was a corpse.
Still, in an effort to do something, doctors at the University Hospital of North Norway hooked her into a heart-lung machine, if only to warm her enough to safely pronounce her dead. Three hours later, one doctor monitoring the video probe had the scare of his life when the patient's heart started beating again. Just like that.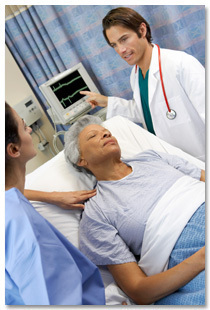 Getty
Well, not like that.
Bagenholm immediately became the epicenter of a bustling circle of white jackets. Even though she was certainly going to be brain dead, just the survival of her bodily functions was deemed "impossible" and "miraculous." Presumably, these terms soon turned to cries of "witchcraft" and "Rule us, immortal lady" as it became apparent that Bagenholm's brain was also doing just fine. According to the kazillion scientific texts that have since been written about her, that 40-minute struggle gave her body time to go into hibernation mode, which in turn enabled her brain to survive with next to no oxygen for so long.
Today, not only has Bagenholm recovered completely, but she's actually working as a radiologist in the very hospital that saved her. She says that the whole "rising from the dead" thing hasn't really changed her life, thus verifying that she already was an invincible Viking superhero before the accident.