Cap is so well known, in fact, that no one else can successfully pull off the stars-and-bars look anymore -- if they try, they may as well just print "RIPOFF" across their chest in place of the big white star. And God help them if they had some kind of trademark red, white and "everything-proof" blue shield.
Except ...
It turns out ol' Cap actually showed up a little late to the Stars 'n' Stripes toga party. In fact, he was beat by two other dudes decked out in Old Glory -- the first of whom was the Shield, whose January 1940 debut landed a good 14 months before el Capitan. The Shield wore an armored costume shaped like a -- wait for it -- shield that repelled bullets and also prevented him from clapping or holding babies.
comicvine.com
Thus making him the perfect 1940s father.
Curiously enough, in his first issue, Captain America had a shield shaped just like that (although he had the good sense to carry it instead of using it as a fashion statement). It was such a conspicuous copy that the Shield's publishers complained, resulting in Marvel changing it in the very next issue to the more practical patriotic Frisbee Cap carries to this day.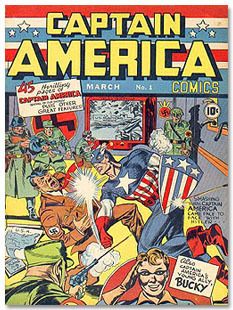 goodcomics.com
Apparently Adolf's only weakness is a telegraphed haymaker.