The Truth:
Come on! That can't be true, right? It's not like a boner has an actual bone in it.
No, but there are two cylinders of tissue that become rigid during an erection, and if she lands on it wrong, it can break, with "an audible cracking sound."
And strangely, this is more likely to happen when a man is cheating, according to University of Maryland Medical Center researcher Dr. Andrew Kramer, who studies penile fractures (and incidentally has by far the worst job in the world). Kramer's research shows that when a man is having an affair, he's more likely to end up with a sharp 90 degree bend in his Mini-Me. He reasoned that illicit sex is more likely to happen in unusual ways or places -- the guy is trying to impress her, after all -- and it's awkward positions and "acrobatic" sex that create the most danger to his brittle love stick.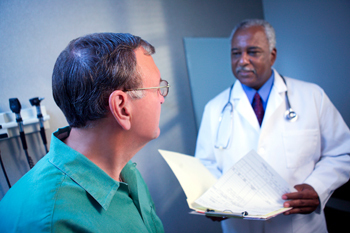 Thinkstock Images/Stockbyte/Getty Images
"So did you want me to straighten it back out or break it again and give you the Lightning Bolt Special?"
Incidentally, if this ever happens to you or someone you love, yes, you need to seek medical attention immediately. Fixing a break probably requires surgery. If you're embarrassed, just emphasize to the doctor how acrobatic the sex was.