"We're just miffed about the dry rot. Have some
pride
, Helen."
Weisensel's nightmare didn't just end with the bones of a child being unearthed from beneath where she slept. First, there were the pesky -- yet quite pertinent -- inquiries from the neighbors.
Getty
"So the cat's vomiting blood and calling for Azathoth. I thought you might know something about that."
"Everybody asks me ... 'Did you have weird things happen in your home?' I say, 'No, my house is just fine,'" Weisensel said of her neighbors. And it's really not a surprise that nothing weird had happened: She probably hadn't made Them angry. Yet.
But then came the real curse known as bureaucracy. See, Weisensel's remodeling project involved her really trying to fix her house. As in, her house needed serious foundation work, which immediately became impossible the moment her home became an official historic burial ground. In order to go through with any renovations, she became legally bound to get the go ahead from the State Historical Society, which in turn would require the hiring of an archaeologist to oversee any and all work, which would cost her $100 an hour.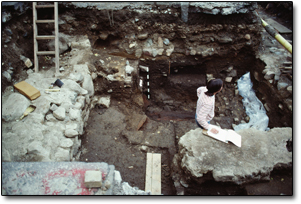 Getty
Eighty percent of that was just wear and tear on fedoras and Nazis.
Before it was all over, Weisensel ended up having to wait 15 months before the state of Wisconsin finally gave her the green light to make those repairs to her home's foundation. Which would constitute a completely happy ending, if it weren't for the fact that she's still living directly atop the skeletons of dozens of slumber-disturbed dead people.