This is where the story would end if it hadn't been for a rare tattoo on the arm that allowed investigators to identify it as belonging to Jim Smith, a former boxer who found a later career committing petty crimes and insurance scams. Apparently, Smith had been a police informant and tried to blackmail the wrong guys. When he ended up in dozens of pieces in a chest at the bottom of the sea, the murderer hung onto his arm, because it had a rare tattoo and would serve as proof that he'd actually done the deed.
rabidpigs
There's nothing worse than being identified by your bad tattoo. Except for being murdered and identified by your bad tattoo, we guess.
Once it had served its purpose, the arm was discarded into the bay anchored to something heavy by a length of rope. What seemed like covering tracks at the time looked like a too-good-to-be-true buffet to the tiger shark when it swam by. To be fair, everything looks like a too-good-to-be-true buffet to tiger sharks (in that scene in Jaws where they find license plates and a boot in a shark's stomach, it's a tiger shark they're examining). When the guilty parties were brought to justice, we hope they noted that they totally would have gotten away with it, if it weren't for those meddling fishermen and their crime-solving shark.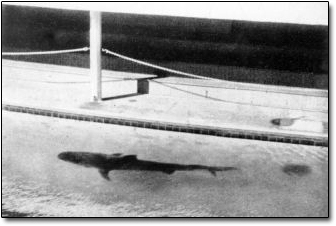 southern-courier
The descendant of the shark later went on to star in a CSI: Miami episode, where he out-acted the entire cast.