Have you ever looked up at an AC unit precariously perched on the edge of a fourth-story window and wondered if that thing would work as a baby holder? No? Huh.
In the 1930s, London mothers had a problem. Unlike country babies, city babies didn't have acres of rambling estates to crawl around. Fortunately, some idiot in America patented the perfect solution for air-starved infants -- a baby kennel that hung out the window. Mini-humans with a hankerin' for fresh air could just crawl right out the window into their totally safe cages.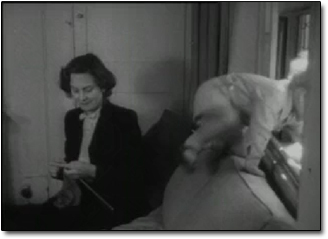 britishpathe
"Oh dear, little Kierkegaard has been reading about nihilism again."
The best part is that the mother doesn't scream in horror as her child totters out an open window, or that she never realizes she's trained her baby to totter out open windows. The other best part is how the patent specifies the mom can lock the cage from the interior of the house, just in case the baby really wants to get back inside but hasn't been aired out enough yet. The patent also specifies that the cage has a solid lid, so the little tyke won't get wet in the "snow and rain."
life.com
It's OK to dangle your child high above the street ... as long as he doesn't get wet.
Fresh air was a fucking huge commodity back then, apparently.