It's at this point that we should probably clarify what we're talking about here. It's not that the contraption was merely a cage, even though we do want to go on the record as being anti-putting-babies-in-wire-cages. It's that this particular cage was not on the ground. It was suspended out of a window, like so:
elationcreations
The only time your child will be in danger of low-flying aircraft.
Have you ever looked up at an AC unit precariously perched on the edge of a fourth-story window and wondered if that thing would work as a baby holder? No? Huh.
In the 1930s, London mothers had a problem. Unlike country babies, city babies didn't have acres of rambling estates to crawl around. Fortunately, some idiot in America patented the perfect solution for air-starved infants -- a baby kennel that hung out the window. Mini-humans with a hankerin' for fresh air could just crawl right out the window into their totally safe cages.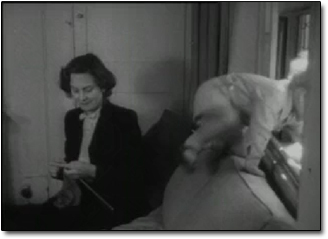 britishpathe
"Oh dear, little Kierkegaard has been reading about nihilism again."