These "Three Strike" laws mandate very long prison terms--up to life--for criminals who have commit their third felony, regardless of what that felony was. Surprisingly the law did not originate from the home of western-style, retard-executing justice (Texas). California instituted the first Three Strike law in 1994.

Pictured above: Legal Precedence.
The law was very popular at first, and a number of states adopted it shortly thereafter. California's crime rate, which had peaked shortly before the law's implementation, dipped significantly in the years after. This was seen as proof of the law's success.
But There's a Problem...
First, correlation does not equal causation. We have a grand history of ignoring this fact when it is politically expedient to do so. So while California's crime rate did decline, so did the rest of the country's. In fact, violent crime dropped more in states without Three Strike laws (4.6 percent) than in the states that had them (1.7 percent).
Why Doesn't it Work?

Why would they let him keep his ski mask?
Three Strike laws punish petty criminals as often as the violent ones everybody has in mind when talking about "getting tough on crime." Men have been put away for life for shoplifting cookies, video tapes and golf clubs, essentially equating those crimes with violent assault or attempted murder.
As a result, California's prisons and jails have been flooded with hundreds of thousands of new occupants. That, combined with many of their facilities being condemned as unfit to live in, has led to a prison overcrowding crisis.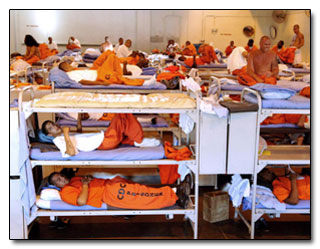 Gosh, it's almost like we shouldn't rely on sports analogies to build a criminal justice system. That's too bad, because we have this little idea we like to call the Mixed Martial Arts Courtroom...