Speaking of raisins, this woman is old! Pow!
Lest you ever think McCain supporters don't know how to party, this video has everything you need to have a rocking good time. Including...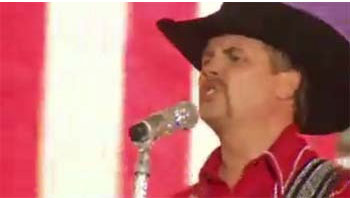 ...menacing facial hair...
...a legendary air fiddle/real fiddle combo solo...
...and of course, party loving midgets!
We bet that elitist Obama doesn't have midgets at his party (bad DNC/Dennis Kucinich jokes notwithstanding).
As much fun as everyone appears to be having, we have to question the thinking behind this particular video. Is "we're all just raising McCain" really the catch phrase you want to use in support of a candidate so quickly approaching his nursing home years? Raising McCain might work as a sitcom about baby-boomers caring for their incontinent father. But we'd be more comfortable with a chorus along the lines of, "we're all just sitting around chillin' while our able bodied president handles shit." A real songwriter could craft a decent tune out of that.