Well, unless you believe the theory that it wasn't exactly a standard retirement. Some folks claim it was an under-the-table suspension imposed by David Stern after word leaked that MJ was losing money by the fistful thanks to a crippling gambling problem.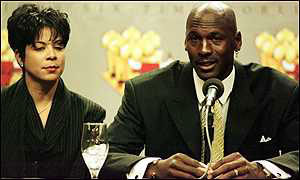 Why it Might be True :
Despite his squeaky clean corporate image, Michael Jordan had a few vices. Namely: gambling, gambling, and more gambling (though since retirement he has added 'underwear commercials that make us uncomfortable' to that list). Author Richard Esquinas went public with claims that he had won roughly $1.3 million off of MJ during their frequent golf games, officially making His Airness the best person to ever have in your foursome. MJ was also no stranger to casinos, even during the NBA playoffs.
Far more disturbing were the unsubstantiated rumors that his father, who was killed in a shooting, had been murdered in connection to his son's gambling debts.
Obviously this would be a nightmare for the NBA, since Jordan was the face of the sport at the time. So the theory goes that something needed to be done to rein Jordan in, but any public suspension would be a PR disaster.
Instead, Stern banished MJ to a super secret, hush-hush year-long suspension and indirectly to an embarrassing stint in Minor League Baseball. After seeing MJ's swing at the plate, we think it was a pretty fair punishment.

Wait, you mean this wasn't his idea?
Only days after Jordan's retirement, the NBA wrapped up its investigation into MJ's gambling allegations, declaring that Jordan hadn't done anything wrong. Except for, you know, betting a shitload of money on sports.
When the question was posed as to whether Jordan would ever consider un-retiring, MJ said yes, "If David Stern lets me." The conspiracy theorists pounced on this peculiar statement, noting that if it were a legit retirement, Stern would be batshit crazy not to let Jordan back in the league.