According to this romantic tale, Fred and George Weasley from the Harry Potter universe were at a party with Lance Bass of N*Sync fame. Beyond that, the narrative offers absolutely no explanation. Whose party was it? Was this in the wizarding world, or in the human world? Why were they both invited? Is Lance Bass secretly a wizard? No one knows.
Either way, we soon find out that Fred and George (who are twins, if you're new to the Harry Potterverse) have a sexy game they play where they do a switcheroo on their sex partners without letting them know. Cue breathy dirty-talk and weird instances of twin-language:
"Mayflower," Fred said casually, which was their code word for "Someone wants you and can I pretend to be you and have sex with them please?" "Lance Bass."
George's eyes widened. "Lance Bass wants me?"
Fred's heart sank. That wasn't the right response, as far as he was concerned. "Yeah?"
"Since when?"
"Now?"
"I didn't even know he was here," George said, looking around furtively, and Fred's heart sank even more. This didn't look promising.
Throughout the story, the writer makes the very bold assumption that Lance Bass is a treat no questionably gay wizard could bear to pass up. Bypassing even "ass," "cock" and "twin," the most commonly uttered phrase in the story is "It's Lance Bass!" as though this is all the motivation a healthy wizard boner needs.
The setting jumps around in the course of this 15,000-word epic of magic and homosexual hook-ups. It's made all the stranger by the random allusions to the magical Harry Potter world, and the odd phrases the author uses to make everything sound erotic, even when it's clearly, clearly not:
They flew to the nearest Portkey and lingered there, licking vinegar-stained fingers and making excuses not to go home until Fred grabbed George's damp hand and held it over the half-chewed acorn.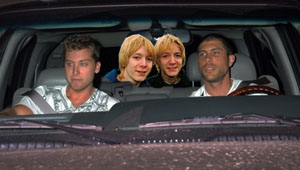 "We've got room for a fourth, right? Yeah. I think we do."