You see, the horse is in love with the girl who, while he's in horse mode, dry humps his back as a means of transport. Comet never makes his feelings known and thus allows this arrangement to continue, much like those "nice guys" who orbit around a girl every day doing her favors, while complaining endlessly in their LiveJournals because the girl doesn't pay back their niceness with a blowjob.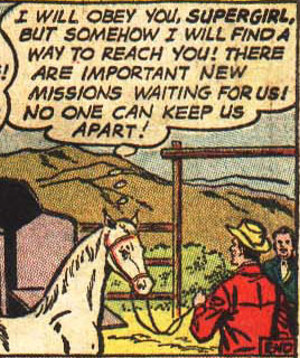 That's right, Comet! The court's orders are meaningless!
And to make the whole thing even more unsettling, he is a super-horse, which zoologists tell us adds at least six inches in length and one in girth.