The Plan:
So how do you get a tank-sized hole in a concrete wall? Well, they created two giant, wooden wheels joined by a central drum stuffed with explosives. On each wheel they strapped rockets as a means to propel it forward at speeds of about 60 miles an hour. Life imitates art, and sometimes military life imitates Wile E. Coyote cartoons.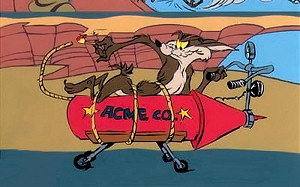 What went wrong:
You can probably guess. The rockets that moved the thing had a habit of flying off during tests, sending the entire structure off course, which we're thinking created a number of safety issues. After adding more rockets and another wheel, it was tested again and this time it turned right back to sea.
Finally, after many tweaks, it was ready to be tested in front of Navy officials, scientists and journalists. How could this go wrong?
The ridiculous thing started rolling off as planned, but then like a drunken hussy with vertigo on a dance floor, it started careening all over the place before making a beeline for the assembled Navy brass, discarding rockets and wobbling around before thankfully collapsing and exploding. Moments later, the Roadrunner went zipping by.