If you didn't get that, feel glad. FYI, that link's really not safe for work.
#21.
This hippie's sign is made all the better by the fact that he ran out of room when writing "Johnson's" and instead of making a new sign from scratch, just Scotch-taped an "S" on the end, making him both cowardly and lazy. The only conclusion you come away with is that the army would have done this fellow a world of good.
#20.

Photo courtesy of zombietime.com.
If this guy was any more in your face, he'd be living in your nose, which would suck since your work life and ability to form relationships would be severely impeded by the sound of Rage Against the Machine constantly blaring out of your nostrils.
#19.
Calling Dick Cheney a war criminal is old hat by now--there's actually a pretty good chance his wife calls him that in bed. What makes this one so odd is the second-grader-Halloween-art-project-skull-mask the protester, who appears to be Art Garfunkel, is wearing.
#18.
Lunatic protesters aren't solely a product of America of course. This one is a particularly good example of someone missing the point of "freedom of expression" entirely.
#17.
Another contender for our "missing the point entirely" prize, we instead decided to nominate this entry for Cracked's first Annual "Doesn't Understand How Buses Work" award.
#16.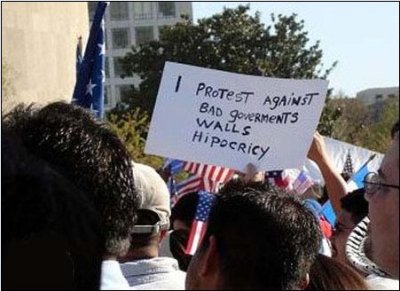 Claustrophobics have a real love/hate thing with protests, what with their tendency to be held outdoors and densely packed crowds.
This guy's evidently using several American flags to calm him within that mass of people.