3: Steven Seagal adopts homeless animals. Not so badass? His two dogs are named Chaos and Fist. Holy shit! Here's your ass, by the way, you might want it back after Seagal's life knocked it off of you.
Steven Seagal was not an elegant man. His action scenes, unlike their Hong Kong counterparts, were not about elaborate or flashy moves. They were about breaking your arms mostly, in the quickest and easiest ways possible. Seagal showed up dressed in black leather, greased-back hair and gold chains, resembling nothing more than a New York Guido out for kicks on a Saturday night. Then, to everybody's amazement, you watched as he flipped men around his head by the dozens to a soundtrack of bones snapping so fast and in such numbers, it was like setting off Chinese firecrackers in a bowl of Rice Krispies. Seagal took the sometimes condescending sophistication out of martial arts movies. He was there to do business, and may God have mercy on your elbows if you took issue with it.
Most Epic Moment Caught on Film:
This clip from Out for Justice hearkens back to his early days of rapid fire limb-breaking and terrifying, albeit somewhat confusing threats, such as: "Whose hot dog is this, eh? That yours?!" Seagal casually, almost absent-mindedly beats the shit out of most of New Jersey in this video, using a billiard ball wrapped in a bar towel. This clip is six-minutes long and there are six arms broken in those minutes. Take a minute and count 'em. Did you only come up with five? That's because the sixth arm is yours. Go ahead. Check. Then get yourself to a hospital. Tell them Seagal sent you--they've got a special ward all ready to go.
The Sad Decline: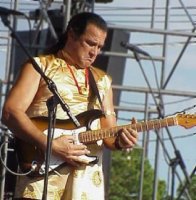 Seagal's martial arts and film career went downhill pretty fast, but even more disappointing than that was his personal descent into the foul and dank valleys of Douchebag County. Early Seagal characters were all about the everyman, they were inner-city cops by and large; unsophisticated and unconcerned with anything but justice, preferably street justice, if you have it. By contrast, Seagal himself became more and more of an unapproachable bottle of dick with every year that passed. He was an early adopter of such douchebag traits as: Fascination with a cheap, cursory sort of Asian spirituality, the sensitive pony-tail, pseudo-environmentalism and of course, the frat boy guitar.