The Sad Decline: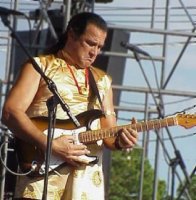 Seagal's martial arts and film career went downhill pretty fast, but even more disappointing than that was his personal descent into the foul and dank valleys of Douchebag County. Early Seagal characters were all about the everyman, they were inner-city cops by and large; unsophisticated and unconcerned with anything but justice, preferably street justice, if you have it. By contrast, Seagal himself became more and more of an unapproachable bottle of dick with every year that passed. He was an early adopter of such douchebag traits as: Fascination with a cheap, cursory sort of Asian spirituality, the sensitive pony-tail, pseudo-environmentalism and of course, the frat boy guitar.
Seagal soon decided to incorporate his newfound love of everything asshole into his movies, and the blue collar cop characters that made him famous gradually morphed into EPA agents protecting rivers and fighting big business. After the repeated failure of his box office releases, Seagal decided to focus on music and cut a blues album called The Crystal Cave, a title which could not spell out 'hippie dickhead' any clearer if you wrote it out on a Hacky Sack and hung it from a puka shell necklace.
Most Pathetic Moment Caught on Film:
This is Seagal's music video, "Girl, it's alright," from the album "Mojo Priest," which manages to one up "Crystal Cave" as the single phrase most likely to cause spontaneous rage-vomiting. Watch carefully for a prime example of douchebaggery as Seagal romances what appears to be a 14-year-old Asian girl in a Buddhist temple while crooning platitudes you usually only hear right before you're date-raped in a Lifetime Network movie of the week. Also watch for Seagal's bloated bulk squeezed into a shimmering gold and red foil two-piece, inadvertently causing him to resemble a 7-11 hot dog.