What actually happens ...
Considering how enthusiastic all the henchmen you've slaughtered have been, the evil alien overlords of the Gradius universe are surprisingly unmotivated. You can forgive them for not having much energy. After all, they are pretty much just brains.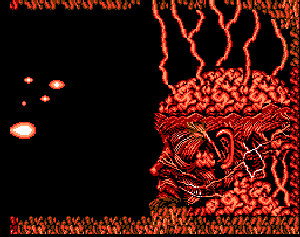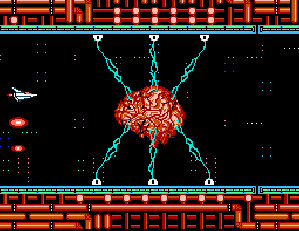 Above: brains
But damn, guys, stick a gun turret or something in the room with you. A TV or something, maybe if you keep yourselves entertained you won't end up so goddamn depressed by the time we reach you. Sometimes you don't even have to get a shot off; the brain sees you in the room and explodes out of sheer desperation. The only way to lose against these boys is to intentionally fly your ship directly into them. And you have to do it fast, since they decide pretty quickly that they're better off dead.
The end bosses in Gradius II and III at least get a few shots off, but we get the feeling it's more to spare their dignity than anything else. They can meet up with the end bosses from Gradius I, IV and V in Evil Alien Heaven and say, "Well, at least we tried."