We're not entirely sure what the cane adds to this costume. We guess it's a good way to class it up a bit, and probably comes in handy if you need to fend off the cell phone guy when he gets too grabby.
In classical mythology, Neptune is one of the mightiest Gods, second only to Zeus in power. In Germany, he's a skinny, lime-green Santa Claus.
Most people have heard that David Hasselhoff is extremely and unreasonably popular in Germany, but few know that Alf enjoys a similarly successful music career there, as well. This is because many Germans mistakenly believe the two are related.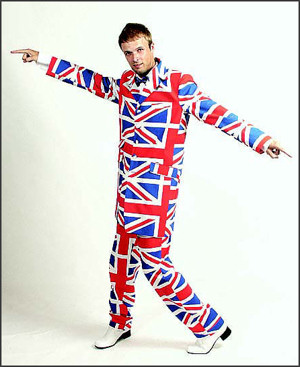 According to the website we found it on, this costume is called "America Boy." Given that the costume is covered in the Union Jack, this is a title that misses the mark by just a whisker.
This is actually a pretty good example of the kind of geographical blunder Americans are always getting blamed for.
In German culture, the teddy bear is terrible authority figure used to warn children about the dangers of constipation.
Continue the freak show!
Read page two for The Fish, The Frog, and the Failures.
At first glance this just looks like a fish on end, until you see the face hole in the middle, at which point you realize it's probably the stupidest costume, ever.
Although, watching two of these guys get into a fight would make excellent television.
After misinterpreting several scenes in the Wizard of Oz (1939) Hitler ordered his scientists to begin designing flying monkeys of his own, to match up against what he perceived to be a new Allied super weapon. This costume celebrates that moment, the darkest chapter of the war.