Ever since the words "Teenage Mutant Ninja Turtles" were first put in that order by two possibly-stoned comic book artists in the '80s, the world has wondered: Who is the best Turtle? Brave Leonardo? Clever Donatello? Affable Michelangelo? The other asshole? We (Maxwell Yezpitelok and M. Asher Cantrell) decided to find out by using every scientific method at our disposal. Meaning "playing a shitload of video games."
We've taken every single game based on the original 1987-1996 Teenage Mutant Ninja Turtles show (that is, the one most people give a shit about) and used them to perform a series of rigorous tests aimed at determining the objectively superior Turtle. It was an illuminating, often frustrating, somewhat traumatizing experience, but here are the results.
Teenage Mutant Ninja Turtles

(NES, 1989)
The first TMNT game quickly establishes that not all TMNTs are created equal. Whereas Raphael's tiny little dinner forks can barely reach beyond his nose ...

To those of you saying "Raphael has no nose": He did before doing this.
... Donatello's long, mighty pole can hit people in other states.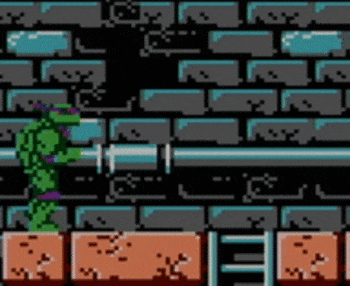 If Donatello stretched his arm a little more, he'd bump himself on the back of the head.
Unfortunately, such endowment may come in handy during special occasions, but it simply isn't practical in everyday life. When we threw each of the four Turtles into a hellish sewer infested with killer robots (aka the game's first fucking level), Donatello didn't do so well:

What Cracked writers look like trying to have sex.
He clearly has the "teenage," "mutant," and "turtle" parts down. But by this game's standards, I could grab a fallen tree branch after a thunderstorm and just kind swing it around in the air while making "whoosh" noises with my mouth and be qualified to call myself a ninja.
Results:
Leonardo: Cleared the sewer in 00:42 seconds
Michelangelo: 00:43
Raphael: 00:51
Donatello: Died pathetically at 01:27
Winner: Leonardo
The Handheld Game (Handheld, 1989)
Before Game Boy, portable games were hunks of plastic that used plain black LCD figures moving over a simple background. If you were born before 1990, you probably had at least one. If you're lucky, it was not Konami's Ninja Turtles handheld game.

Bullies invented entire new genres of taunts for these.
We couldn't even get past the first stage (of two), because screw this game. Enemies pop up right on top of you, giving you zero time to react, and it's hard to tell whether you've actually killed something or it just wandered off to do something less shitty.

"Let's go do literally anything else."
Results:
The four Turtles are identical. However, since all four have red bandanas on the front of the game, we've concluded that this is a reality in which Raphael cloned himself and murdered his brothers.
Winner: Raphael