The best thing you can say about police misconduct in the headlines is that they're often cases of split-second decisions gone wrong -- officers who are too quick on the trigger (or the Taser) or react to conflict in ways that suggest they should never have gotten the job in the first place. But then, you have the cases where mindless or outright corrupt shit was going on for months or even years, and nobody involved ever raised his or her hand to say, "Uh, are we seriously still doing this?"
Louisiana Police Round Up And Arrest Gay Men For Being Gay ... In 2013
Medioimages/Photodisc/Photodisc/Getty Images
As we've mentioned before, it wasn't until 2003 that the U.S. Supreme Court finally declared it unconstitutional to outlaw same-sex sexin'. But, that didn't mean those states with offending laws were required to remove them from their statutes -- it just meant they could no longer enforce them. Apparently, however, Louisiana never got that memo.
zimmytws/iStock/Getty Images
The Supreme Court really needs a Twitter account.
In 2011 (in case math wasn't your strongest subject in grade school, that's eight years after the aforementioned Supreme Court ruling), the East Baton Rouge Sheriff's office launched a super clever sting operation. We're talking truly top-notch, Loki-level law enforcement trickery here. Step one: Find a gay man. Step two: Send an undercover (male) cop to ask said gay man if he wants to, maybe, you know, get up to some stuff of the butt variety. Step three: Arrest said gay man when he says yes.
Chelsea Brasted/The Times-Picayune
"Maybe we shouldn't be so fast to arrest -- wait a couple of dates;
maybe a bed-and-breakfast weekend. We really want these charges to stick."
Now, to be clear, this was not a prostitution sting -- the cops never offered, nor did they ask for, any money. They were straight-up busting gay dudes for wanting to have gay sex. After two full years and 12 arrests, someone finally pointed out in 2013 that, no, you can't actually arrest people for being gay in America in fucking 2013. The Sheriff's department initially tried to shift the blame with a Facebook post saying that they were "never contacted or told that the law was not enforceable or prosecutable" and that "the deputies in the cases were acting in good faith using a statute that was still on the books of the Louisiana criminal code." But then, they recanted by issuing an apology and saying that the investigation totally wasn't meant to target the gay community. And the entire department's noses collectively grew by a good 12 inches that day.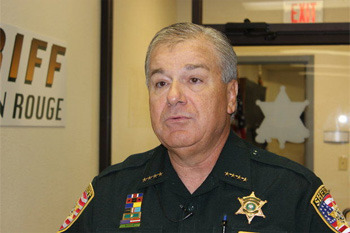 Quincy Hodges/The Times-Picayune
"Which, under Louisiana law, counts as intention to commit sodomy."
By the way, Louisiana is just one of 13 states that still have unenforceable sodomy laws on the books. Let's hope the other 12 have people on staff who are more skilled at marking through things with a red Sharpie.
Virginia Police Routinely Suit Up In Their SWAT Gear To Issue Citations To Casual Gamblers
Mark Bowden/iStock/Getty Images
We've previously told you about the time optometrist Sal Culosi from Fairfax, Virginia, was befriended by an undercover cop, conned into betting more than $2,000 on a football game (the threshold for making it illegal in Virginia), and then accidentally shot outside his house when the Fairfax PD sent in a fucking SWAT team to arrest him for it. Well, apparently "you live and you learn" is not the motto of the Fairfax County police department, because it has a long and ludicrous history of using excessive force to put a clamp on the scourge that is casual gambling.
Tanya Nozawa/iStock/Getty Images
"Playing pogs for keeps? We will fuck you up."
It's a threat they take seriously enough that the department lost $300,000 by placing a series of bets in order to infiltrate and take down an online, Vegas-based bookie and his Fairfax-based associate. Both suspects were punished to the full extent of the law -- meaning that neither of them received any jail time, but they did get slapped with the maximum fine of $500. Oh, and they also have to repay every penny of that $300,000 ... in $200 monthly payments. Meaning that, much like your mortgage, they'll probably closely resemble haunted house props long before managing to pay the debt off.
But, bleeding out massive stacks of cash in order to bring people up on misdemeanor charges is only the tip of the iceberg -- the real craziness is the PD's tendency to break out their SWAT gear to bust casual bettors. In late 2005 (the year before the infamous Culosi incident), more than a dozen officers raided the basement of Rick Rahim, a part-time professional poker player who was running a friendly game with a $300 buy-in. The officers stormed in, presumably flipping tables like a scene straight out of Hollywood, and arrested ... two people: Rahim himself, and Robert Hoffman Jr., an off-duty police officer who had been protecting the game (not very well, obviously).
zabelin/iStock/Getty Images
"Wait until they throw down the river so we can say, 'More like up the river,' while we use our Tasers on them."
And just in case you're thinking the Culosi incident placed a tragic bookend on this practice: In 2010, a "masked and heavily armed SWAT team" burst into the basement of a Great Falls residence, pointing their assault rifles at 10 poker players and ordering them to drop their cards. And this wasn't some old-timey saloon where every player had a six shooter at his side, ready to clear the table at the slightest provocation -- one anonymous player said, "They could've sent a retired detective with a clipboard and gotten the same result." Now, to be fair, this particular game had, at least, high stakes -- the minimum buy-in was reportedly 20 Gs. The PD, of course, seized every last chip's worth of that cash.
Hey, when you have a gambling habit to the tune of dropping more than a quarter million bucks to make a return of less than a grand in citations, you've got to support it somehow.