I sacrificed several months of my life, sanity and dignity working in tech support to amass the dark knowledge I share in this article. I may have even helped you with a computer problem at some point. If so, I'm sorry.
Now, it probably seems like every time you call tech support you're playing a game of dipshit-roulette that by and large you can't win. You probably spoke to one of three people:
The outsourced guy in India who, as best you can tell, is either explaining how to reset your BIOS or reading you amateur erotica;
The mouth-breather who refuses to believe that you've already power cycled the modem and that you are fully aware that a computer needs to be plugged in for it to properly function;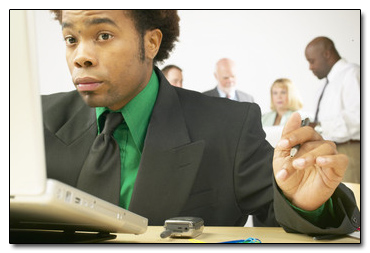 A level two tech support assistant, which is kind of like winning the lottery since there's actually a chance that he knows how to fix your computer, though he won't do much besides talk to you like you have mittens pinned to your jacket and need the tines on your fork filed down so you don't stab yourself when you eat.
If these three characters sound familiar, you're not unlucky. Based on my experience, these are pretty much the only three types of tech support people that exist. There are reasons for all of this. Terrible, nonsensical reasons. Let's walk through a typical call, from the beginning.
On Hold
The Suck:
At some point in time while furiously fapping to some hentai on a venture through various East Asian thumbnail galleries you may have had the unfortunate luck to run afoul of some kind of virus that completely crippled your computer. Desperate for some more pictures of Sailor Moon pleasuring Pikachu, you call up tech support. You'll likely notice the phone rings and rings again before finally a pleasant recording will let you know that your call is important. That's nice.
Around the 15th time the recorded voice assures you of your importance, you begin to imagine what you're certain is a faint whiff of sarcasm in her voice. Your eye begins twitching ever so slightly.
The Reason For The Suck:
You may have heard one of those messages say you've called during "peak" hours, when everyone is fucking up at the same time, and to call back later. And you've probably noticed if you call at 2 AM you may get through right away, but if you call at 5 PM the next day, you'll wait an hour.
It seems like the solution to this problem would be simple: shift some of the staff's off-peak hours to the time when, you know, people are actually calling. But predicting a rush of calls is like trying to predict a traffic jam; you know its more likely during certain times of day, but you still can't predict when 50,000 customers all download the same virus-encrusted clip off of DirtySanchez.org at the same time.
You may be asking why they don't just say "better safe than sorry" and staff the call center with extra support just in case of a problem. It's the same reason your yard is not full of unicorns shitting gold coins; that's just not the world we live in. In this world, where support staff are paid by the hour and everything is sacrificed for the bottom line, the company thinks having too many staff sitting idle is worse than not having enough. They even sell special scheduling software intended to make sure call centers have the exact minimum of staff on hand at all times.
So while Tech Support agents tend to be nocturnal cave creatures who use sonar to feed on field mice, that's not why it's easier to talk to one at night. Well, at least it's not the only reason. Somewhere there's a stressed-out manager who'll catch hell if he's got guys "sitting around."
The Level 1 Tech Support

The Suck:
When you finally do get through to an agent, you'll hear something like: "Welcome to DSL technical support, my name is Larry how can I help you today?" You give Larry your account number and begin to explain your situation, knowing all the while that this is a formality. As soon as you stop talking he'll begin the same dance you've danced every time you call tech support.
You conclude your exhaustive rundown of your case history. There's a beat, and then Larry responds, "I understand sir. Can you tell me. Is your computer plugged in?"
Goddamnit.
Reason for the Suck:
Every call Larry takes is subject to quality control which means he's being monitored. And the Big Brother in this particular situation requires he ask you if the computer is plugged in, if the power is on and if the monitor is on as well. If he gets caught doing something else he'll get fired. He doesn't necessarily think you're borderline retarded, he just has no autonomy whatsoever. Larry is like a CSI: Miami cast member: a now-soulless abomination with a script that he must follow against his better judgment.
Most tech support agents you've spoken with are sitting in a giant, cubicle-strewn mess of a room with hundreds of other agents, all at their computers with headsets on, all running the same tech support software. Most don't actually have any computer expertise. By and large they're recent high school grads, single moms or social malcontents who refuse to wear anything that doesn't feature a character from a Tim Burton children's movie on it. They're trained for 30 days on the software and are encouraged to just read along with the computer for each call. So in most cases, Larry's bosses aren't exactly wrong for discouraging any off-prompter improvising.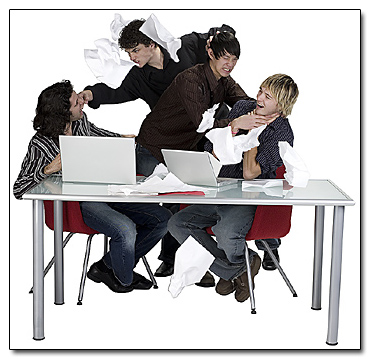 That's why every time you call with a different problem they ask you to do the same thing. It's not that they don't know what they're doing (though they very likely may not), it's that they only have one thing to do and this is it. It might help you feel less frustrated to think of each tech support call as a horrific fall down a set of stairs. Fight as much as you want, but there's only one way that this can go, and each step leads to banging your head.