15 Celebs We Never Knew Recorded An Album
In this list, you'll find some of the worst offenders when it comes to celebrities trying their hand at music. From Bruce Willis's crooning to Shaq's rapping, there is something here for everyone who enjoys a good "so bad it's good" album.
Looking for something to listen to on your next murderous rampage? Look no further than Alfred Hitchcock's 1958 classic, Music to Be Murdered By. This album is a perfect mix of songs and monologues delivered by the Master of Suspense himself, guaranteed to get you in the mood for some mayhem.
But Hitchcock isn't the only one with an interesting foray into music. Boxing legend Muhammad Ali released a children's comedy in 1976 about fighting tooth decay, while Terry Bradshaw put out a heart-wrenching country ballad that will make you so lonesome, you'll be begging for someone to cry with. And who could forget Macho Man Randy Savage's hilariously terrible rap album from 1988? There's truly something for everyone on this list!
Music to be Murdered By: the perfect album for your next murderous rampage!
Muhammad Ali, world-famous boxer and legendary trash-talker, dabbled in the music industry with a record about the dangers of sugar.
Comedian Arsenio Hall dons a fat suit and funky attitude to sell rap as Chunky A.
This heart-wrenching country ballad will make you so lonesome, you'll be begging for someone to cry with.
The New York Mets are more than just a baseball team -- they're also recording artists.
Can you solve the riddle on the back of Crispin Glover's 1989 album The Big Problem ≠ The Solution. The Solution = Let It Be?
William Shatner's 1968 album "The Transformed Man" is so bad it's good.
Macho Man Randy Savage's only rap album is so bad, you might actually enjoy it.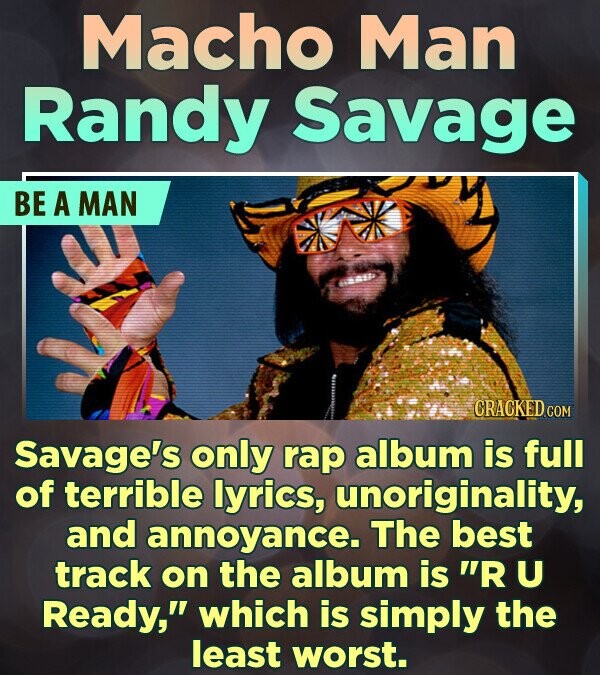 Mae West's final attempt at showbiz triumph was not to be.
In 1973, America's favorite cowboy released an album of patriotic poems set to music.
A solo album by Tim Curry about America and money is probably not what you're expecting, but it's worth a listen.
For all the Leonard Nimoy fans out there who also enjoy a good Vulcan Transfusion: his first LP is available on Dot Records.
Wilford Brimley, of Quaker Oats and Cocoon fame, teams up with Jeff Hamilton's trio for a charming evening of well known classics.
Shaquille O'Neal's 1992 debut album "Shaq Diesel" is an atrociously hilarious trainwreck of corny sound effects and terrible lines.
Bruce Willis thought he could sing, but we all know better.