15 Times Hollywood Depicted Its Own Monsters And Weirdos On-Screen
In 'She Said', journalists Megan Twohey and Jodi Kantor investigate Harvey Weinstein's widespread, unchecked abuse of power within the highest circles of Hollywood. The film adaptation captures the journalists' efforts to get the story right while also dodging Weinstein's threats. Both book and movie center around the topic of women who have been affected by sexual assault, whether directly or indirectly, working to break the abusers' stranglehold on power.
Joel McHale stars as Chevy Chase in a movie about Douglas Kenney, the co-creator of National Lampoon based on Josh Karp's book A Stupid and Futile Gesture. The comedy/drama tells Kenney's story through a biographical lens.
Daniel Roebuck was always in Jay Leno corner throughout Late Shift by Bill Carter -the behind-the scenes battle to succeed Johnny Carson as host of 'The Tonight Show,' even before he was cast as the victor of 'The Tonight Show' war in the movie version of it.
Leonardo DiCaprio plays eccentric millionaire Howard Hughes in 'The Aviator,' a story of undiagnosed OCD.
Richard Attenborough convinced the studio to cast Robert Downey Jr. as Charlie Chaplin in 'Chaplin' after screen testing him and seeing his potential.
Jim Carrey was so dedicated to being Andy Kaufman that he stayed in character even when the cameras weren't rolling.
Tommy Wiseau is the weirdest Hollywood story and 'The Room' is considered the worst film ever.
Geoffrey Rush gives an excellent performance as the enigmatic Peter Sellers in 'The Life and Death of Peter Sellers.'
Daniel Roebuck was always in Jay Leno's corner.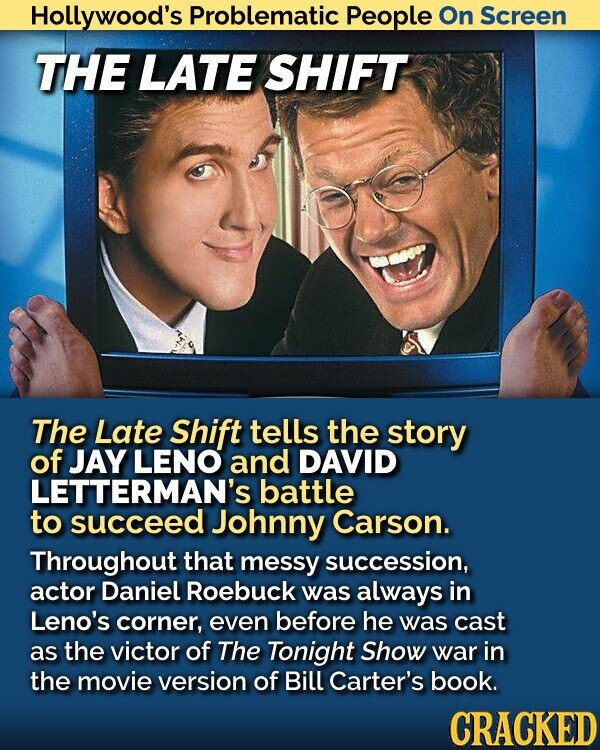 Anthony Hopkins on playing Hitchcock: "It was one of the most difficult roles I've ever had."
In 2014, Abel Ferrara directed a film about the influential Italian director Pier Paolo Pasolini
Hollywood is hiding a dirty secret: the sexual abuse of young male actors.
The book and movie 'She Said' are about the journalists who broke the story of Harvey Weinstein's abuse, and the women affected by it.
Liev Schreiber stars as Orson Welles in the HBO drama 'RKO 281.'
Michel Hazanavicius' 'Redoubtable' is a portrait of iconic French New Wave director Jean-Luc Godard.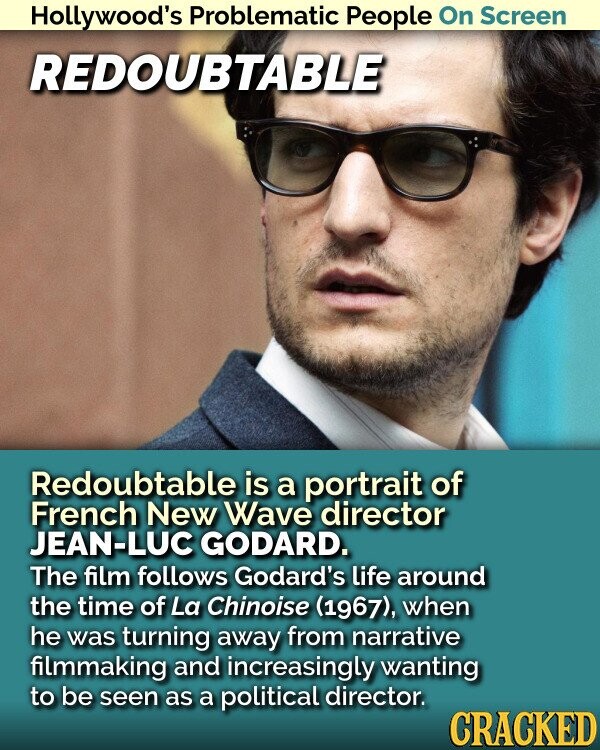 Joel McHale stars as Chevy Chase in 'A Futile and Stupid Gesture,' a movie about Douglas Kenney, the co-creator of National Lampoon.
'Auto Focus' is a dark character study of Bob Crane, the lascivious star of 'Hogan's Heroes.'
Viewers were not happy with 'Saturday Night Live' after they aired a sketch making fun of the defamation case between Johnny Depp and Amber Heard.