15 Bizarre Sources of Energy That May End Up Powering Our Future
Did you know that the Central Station in Stockholm uses the heat generated by 250,000 commuters to warm water for an office building 100 yards away? Real estate company Jernhusen owns both the station and the office building. They expect to lower energy costs by 20% per year with this system.
Or that coffee grounds can be used to create biodiesel fuel? A recent study found that there was a reasonably standard composition and little variation in the relevant physical properties of fuels made from different types of coffee, which means all waste coffee grounds are a viable feedstock for producing biodiesel.
Finally, and going back to Sweden again, did you know that smugglers are helping power Sweden's public transport by smuggling alcohol? The customs service seizes almost all of the 185,000 gallons, or 700,000 liters, of smuggled alcohol last year and uses it to power buses, trucks and a biogas train.
Cocoa shells = new power source in Ivory Coast.
This dude created floor tiles that turn energy from footsteps into electricity.
Tofu makers in Kalisari village are using waste to produce gas for stoves.
This prototype toilet produces electricity from urine to light up refugee camp toilets in disaster zones.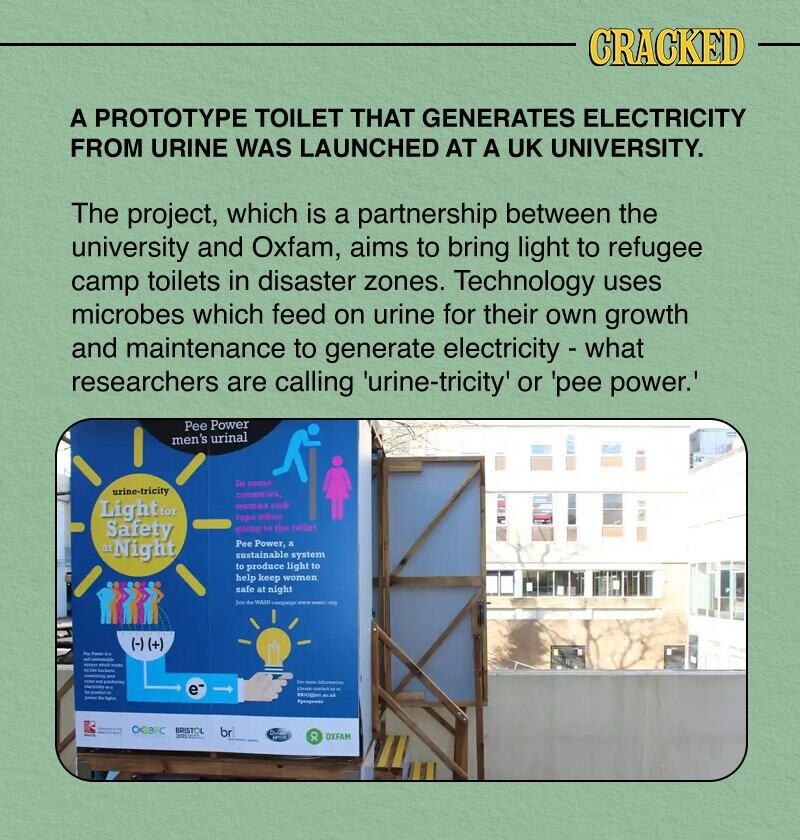 This process for transforming E. coli could be used to make jet fuel, diesel or kerosene from plant-derived sugar.
Copper satellites could beam solar wind energy back to Earth, but would need to be located super far away.
The power of waves could provide the world with renewable energy, but development is far behind.
The Netherlands has a plan to process cow manure into biogas.
Algae: the next big thing in biofuels?
New technique turns sound into electricity, allowing mobile phones to be powered up while in use or from background noise.
Green fluorescent protein from jellyfish is being used to create a cheaper, more efficient solar cell.
No need to feel guilty about that morning coffee habit anymore - turns out those used grounds can be turned into biodiesel fuel!
The Central Station in Stockholm is using the heat generated by 250,000 commuters to warm water for an office building 100 yards away.