18 of the Best Right-Hand Foils in Pop Culture
Throughout the history of storytelling there has been the trope of the "right-hand man." They assist the main hero or leader of the tale. However, some of these second banana characters are written in a way to be a foil to the main character or team captain. The moon to their sun, the Yin to their Yang, the chili peppers to their honey.
Some of these characters, dubbed "lancers" in the literary trope world, have more dedicated fans (or even more fans, period) than the main character of a pop culture franchise. For every clean-cut captain of the football team, there's the pothead kicker. For every heart of the team, there's the mind. For every gifted chosen one, there's the scrappy hardworking struggler. But in spite of their differences, they work well as a team, even if they are rivals at the beginning or towards the end of the stories they're both in.
Here are some of the most notable right-hand foils in modern popular culture.
Spock
Wolverine
Samwise Gamgee
Ron Swanson/Ann Perkins
John Watson
Kira Nerys
Vegeta
Raphael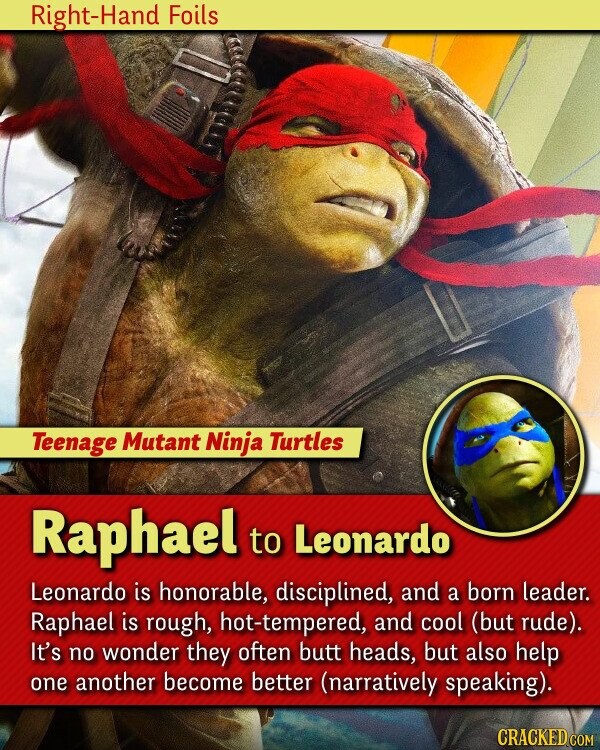 Astrid Hofferson
Sasuke Uchiha
Mikasa Ackerman
Ken Masters
Katara
Han Solo
Buttercup
Johnny Cage
Batman
Captain America and Iron Man
Scroll down for the next article