35 Wild But True Crimes We Can't Believe Are Real
When you imagine crime, it'd be nice if what came to mind was the events of the Oceans Eleven movies… You know, George Clooney, Brad Pitt, and a whole swath of handsome actors in tailored suits performing an elaborate heist to get one over on some evil casino mogul or something like that. Unfortunately, the reality of real crimes is that they're often sadder, scarier, and much stranger. Below are some of the wildest, most unbelievable crimes we could put together.
A man who committed a murder, even though his ankle bracelet monitor placed him squarely in his own home? We've got that. A tank used in a prison break? You betcha. A husband who swore that he didn't kill his wife, and that a drunken moose was the actual perpetrator? You're not going to believe what investigators ended up finding on that one.
So hey, crime may not be like Oceans Eleven, it's often way weirder.
Wiping Themselves Out
The Snowtown Murders
Roasted Fetuses
"Way too common around the world"
The Burger Chef Murders
These Lions Were Super Chill
Escaping From An Escape Room
The Drunk Moose Murder
WHEEL! OF! COCAINE!
The Double Frenchmen Steak "Murder"
Hunky Sky Pirate
Ted Bundy's Suicide Hotline
Lacey Spears
The Eriksson Twins
Scream-Style Movies
Just... gone...
A Real Mad Pooper
Missing Waynesboro Cats
The Ankle Monitor Scheme
Missing MOMA Photos
The Krugersdorp Cult
The AirBnB Murder
Head in a Sex Toy Box
The Lululemon Murder
Escaping Prison and Coming Back
Confessing on Your Death Bed... Kind of
Using a tank to break out of jail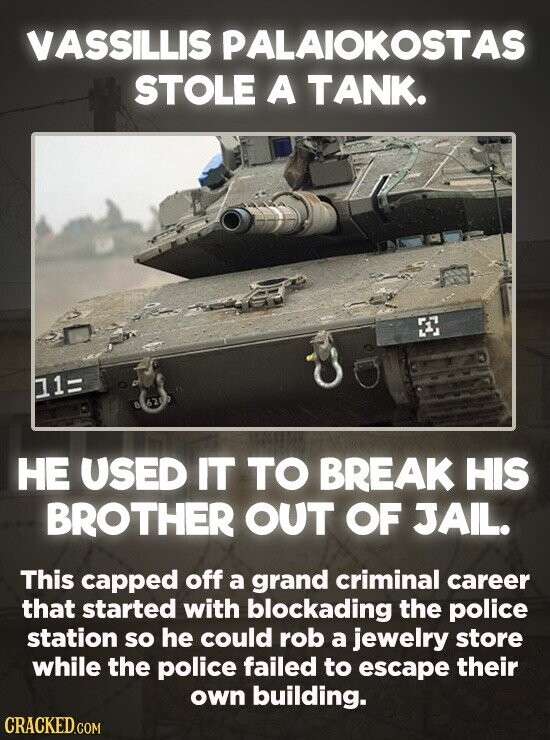 Stealing 1's and 0's
Off-Duty Cop At the Robbery
Missing Poland Woman
Cleansing of "Demons"
Butt Dialing the Police
Someone Else's Blood
The Most Wanted Man in Australia
Not a Real Cop