25 Odd News Stories For The Weirdos Out There
Often in the course of a long and winding day we might enjoy a list of interesting facts that were told to us by one or another friend or family member. At times they are humorous, at other times they are informative, but no matter what, they are usually interesting and often entertaining. They are the kinds of stories that keep our minds active and engaged, even when our bodies are tired or our eyes are strained. As we sleep we may be reminded of them with the passing dreams that are more than just mere recollections. We may not be able to recall who told us the story in the first place, but the facts will remain with us forever. It has become our habit to make these lists as we grow older. Perhaps they are lists of odd facts that we have accumulated over time. Or perhaps they are lists of odd facts that we enjoy this list of interesting facts that we have created for ourselves. Either way, they are lists of facts that we enjoy sharing with others and which we enjoy learning for ourselves.
'Very pregnant' sea lion visits California golf course.
Miniature house installed in San Francisco park a mystery.
Suspected land mine from the 1930s removed from Florida beach.
Fireworks shoot from truck that caught fire on New Jersey highway.
Enough talk: YouTuber breaks world records for chugging Mountain Dew, tomato juice.
J.K. Rowling falls for Russian pranksters posing as Zelensky in Zoom call.
People drawn to others who smell like them.
Amazon uses kid's dead grandma in morbid demo of Alexa audio deepfake.
Woman Rescued After Sending Grubhub Note to New York Restaurant.
Lauren Boebert Is Baffled by 'Bricks' Belonging To A Construction Site Near The US House Office Buildings.
Burger King worker receives modest goodie bag for 27 years of perfect attendance.
Bear dies after getting trapped in a hot car while searching for food in Tennessee
Swiss 'zero star hotel' offers sleepless nights to ponder world's crises.
I went to gun training for US teachers – and one of them 'shot' her colleague.
Bored & Hungry Restaurant Stops Accepting Cryptocurrency.
Man who complained he had 'adult potato' thrown at his head goes viral.
Hostess launches $TWINKcoin snack cakes.
Greek state TV broadcasts advice on how to siphon gasoline.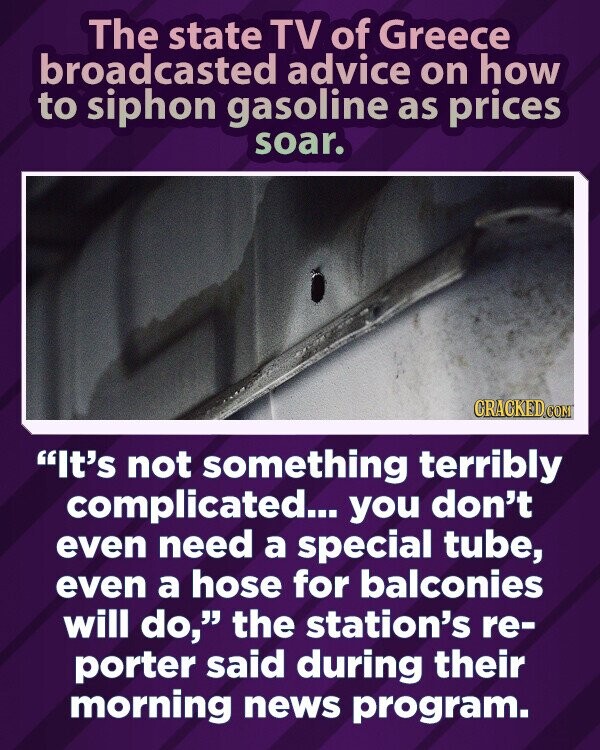 Goat accidentally neutralizes several invaders in Zaporizhzhia Oblast.
Reading host families urge Ukrainian refugees to find new accommodation.
Toyota is recalling its first mainstream electric car because the wheels can fall off.
City contractor goes out for drinks after work, loses memory stick.
Intoxicated Redland mayor Karen Williams crashed car one hour after meeting with drink driving victims.
Georgia death row inmate allowed to ask for firing squad instead of 'painful' lethal injection.
Mars probe running Windows 98 receives software update after two decades.